Along with the final words of Chairman Mr. Hu Zhirong,Warom Technology Incorporated Company is opening in Shanghai Stock Exchange (stock abbreviation: Warom Technology, stock code: 603855). The general capital is 33107 ten thousand shares, with the issue price of RMB7.59, and for the first time online pricing public issue 8277 ten thousand shares. Warom Technology gets a large amount of capital at the call auction stage, rising 20%, at continuous auction stage rising to 44%, limit up with the price of RMB10.93.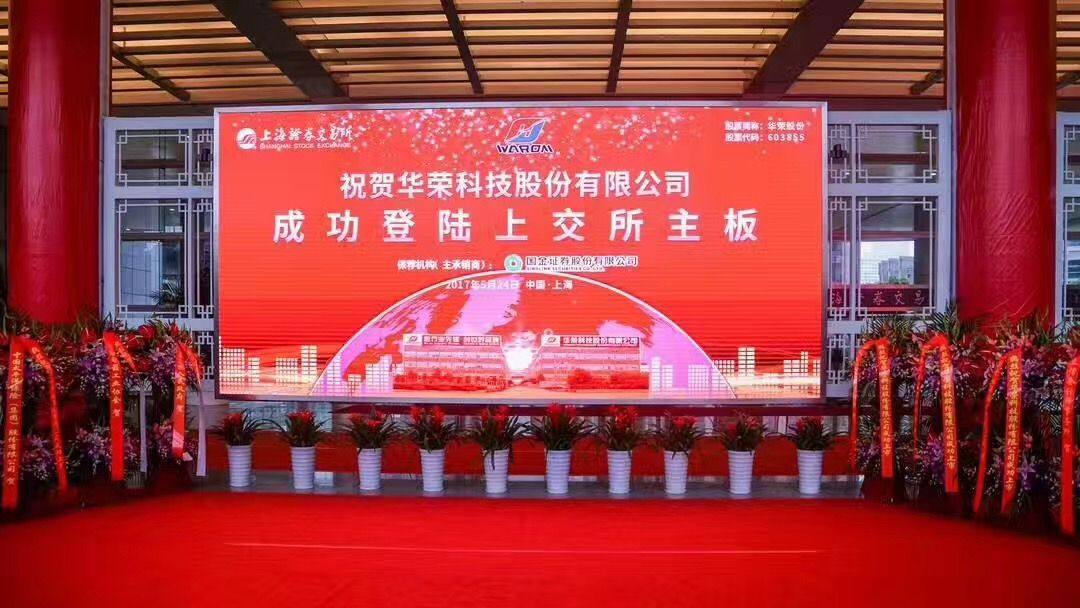 Mr. Hu Zhirong made a speech on list ceremony; expressed thanks to wide users, cooperators, governments at all levels, friends and all the staff who take care of, support and help Warom in long time, and warmly welcomed about 460 guests from all circles. Mr.Hu emphasized that to be listed is the new milestone in the development of Warom. We will set this as new start, work soundly and strongly, fulfill the social responsibility, create good benefit, live up to the expectation of investors and all sectors of society.
Secretary of District Mr. Ma Chunlei represents district committee and government to express warm congratulations to Warom, and praises Warom as the excellent representative in Jiading manufacturing, its going public is the horror of Jiading, and hopes Warom can move forward and make contribution to Jiading manufacturing. Vice present of Sinolink Securities Mr. Jiang Wenguo, user representative Mr. Li Tiecheng respectively represents sponsor institution and user to express congratulations to Warom.
Warom Technology held grand appreciation banquet in Ritz Carlton Hotel in Pudong at 11:30, invited famous Shanghai artist to perform, nice music, elegant dancing posture and sweet singing push the atmosphere to a new high. The guests felt at home, toasted each other, and shared the happiness of Warom being listed.
Landing Shanghai Stock Market is the new start of Warom Technology. With the help of capital market, the performance of Warom will be more expectant in the future Chinese explosion-proof field.