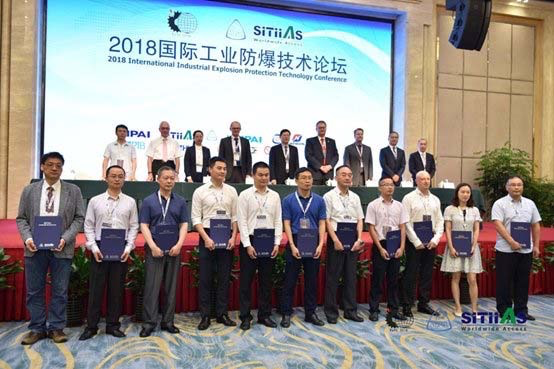 Group photo of forum honored guests
From August 29 to 30, 2018, ExTC co-organized by Warom Technology Incorporated Company, was held in Jiading District, Shanghai. This forum is hosted by SITIIAS/NEPSI, is an international event at a time, in the field of international industrial explosion-proof technology, more than representatives and the users nearly 200 people present from 50 manufacturing enterprises, professional technical organizations.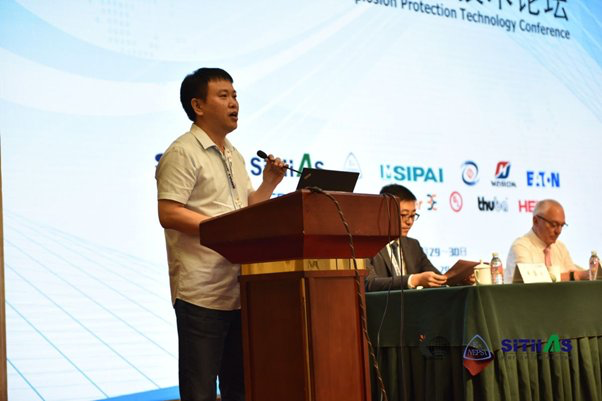 Mr. Li Jiang addressed at opening ceremony
Professor Xu Jianping, chairman of IECEx TAG, Dr. Frank Lienesch, chairman of explosion-proof specialty of UNECE, and Mr. Li Jiang, director of Warom Technology Incorporated Company, attended the forum and delivered a speech at the opening ceremony. Mr. Li welcomed the arrival of experts and scholars in the field of explosion protection at home and abroad, and expressed sincere thanks to the leaders, domestic and foreign testing institutions and industry experts who supported and helped Warom's progress and development. And warmly invite delegates to visit and guide Warom industrial park. In recent years, the Chinese explosion-proof technical standards have been basically aligned with the international IECEx standard and the EU EN standard, and the regional explosion-proof technical standards have basically evolved into a global common standard, which is a remarkable technological progress, he said.
Technical center general manager Mr. Wang Yade get IECEx certificate
At the meeting, professor Xu Jianping, chairman of IECEx TAG issued certificates to 11 first batch enterprises such as Warom Technology Incorporated Company, which applied for IECEx certificates through SITIIAS/NEPSI. Wang Yade, general manager of our factory's technology center, got the IECEx certificate. SITIIAS general manager Mz. Guo Aihua together with project manager Michael Slowinske of US safety testing laboratory, inaugurated for NEPSI witness laboratory, taking detection and certification as the gripper, to eliminate international trade barriers, provide a test for explosion-proof enterprises in China, the world's major countries market access certification testing engineering services, opening a new chapter of NEPSI - UL in-depth cooperation.
Factory Monitoring Technology Department manager Mr. Zhu Pingqiang delivered speech
This forum is SITIIAS/NEPSI for actively responded to the national appeal "strong and safe science and technology" and "sharing explosion-proof experience, exploring the technology frontier" as the theme, aims to further explosion-proof technology international exchange and cooperation, to help the design and technical personnel, explosion-proof products manufacturers and end users to better understand the latest progress in the international standardization of explosion-proof technology, master industrial explosion-proof technology front, familiar with explosion-proof products global market access system, and through the interactive communication, build a wide range of explosion-proof safety technical cooperation platform, overall enhance the industrial explosion-proof safety technology level.
Zhu Pinqiang, head of the Monitoring Technology Department of our company, delivered a speech with the name "Comprehensive security system solutions for petrochemical enterprises", sharing advanced explosion-proof new technologies, new products, system solutions and application experiences, which was highly praised by the participants.