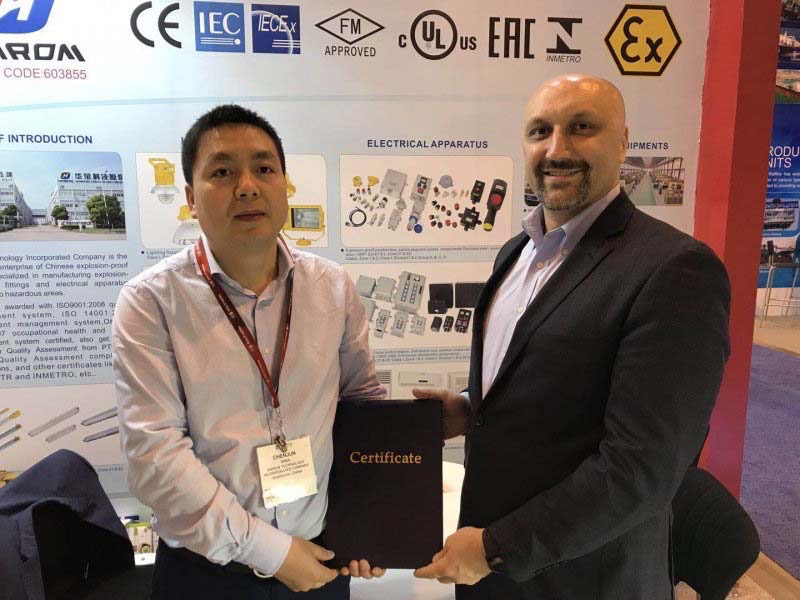 UL Vice President Mr. Milan Dotlich Congratulates to Warom On Awarding Ceremony
American local time at 2nd May 2018, during OTC which was held at "Energy Capital" Houston. American certification authority UL LLC(hereinafter referred as UL) global vice president Mr. Milan Dotlich awarded "UL 1203-C1D1" product certificate to Warom.
Mr. Milan Dotlich congratulate to Warom on awarding ceremony and says that Warom has obtained many UL lightings certificates before. Now the new certificate will promote Warom's international leading position and reputation, it also will help Warom to expanding North American market.
Passing UL product certification tests are persuasive evidences of quality. This certificate is not only the approval of Warom explosion proof product design and quality, but also the comprehensive review, verification and approval of UL certification testing institution for Warom's technology research and development ability, product manufacturing process assurance ability and product quality control and inspection ability.
Since Warom passed first UL factory QAS examine, we have taken considerable efforts to obtain more products' UL certificates. In order to comprehensively expanding American market and further promoting Warom products' occupancy in international market, Warom will certainly win more international users.