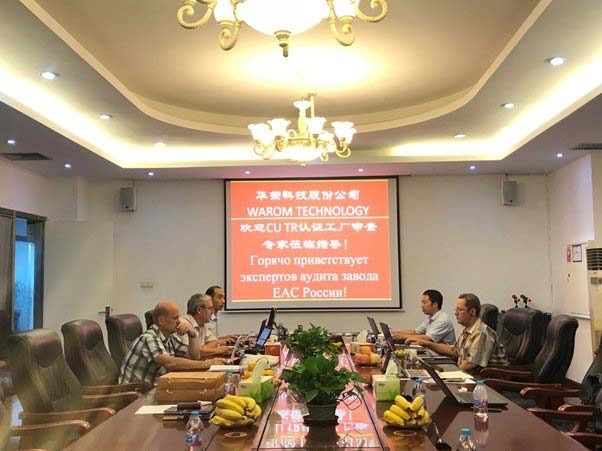 In September 18~19, Russian NANIO CCVE Explosion-proof certification institution dispatches 3 explosion-proof specialists to reexamine the running condition of Warom's CU-TR explosion-proof quality management system is in accordance with explosion proof order TP TC 012/2011 or not. Since we first get CU-TR certificate in 2013, it's also the first time for Warom to accept on-site review renewal of 5-year validity certificate.
During review process, Russian experts of NANIO CCVE inspect the running condition of Warom's CU-TR explosion proof quality management system by consulting production technology documents, looking over manufacturing techniques and testing control on the spot and communicating with relevant staffs, they particularly double check the explosion proof performance and electric safety in ultralow ambient temperature.
After 2 days precise and careful on-site review, Russian experts of NANIO CCVE hold a perspective that Warom passes the examination because of its technical R &D strength, manufacturing capacity, product quality assurance ability, enterprise comprehensive management ability have reached international advanced level.
Mr. Zhou Jing, who is the chief engineer of factory division technical center says that experts' affirmation is encouraging for all Warom staffs, we will make persistent efforts and strive for greater progress. The truth is that Warom has practiced international certification since 2003, such as IECEx, ATEX, UL &FM, CU-TR. After
implementing management by using the advanced international quality management conception, our comprehensive management capacity has promoted full-scaled. Now we are on the same level with Europe &America explosion proof apparatus manufacturers.
。
Customs union certification overview: also called the customs union specification certification or a customs union certification (English abbreviation for CU TR certification or EAC certification), was launched by Russia, Belarus, Kazakhstan, increased after Armenia, Kyrgyzstan, join in, so far to join the customs union certification system with five countries. Customs union certification is a necessary market access condition for entering the five countries. The CU TR certificate means that products can be freely sold and circulated in the customs union countries.
Since the first half of 2014, with China's "Belt and Road" to go out of the National Strategy blueprint planning, China and Russia, Kazakhstan as the representative of the CIS countries to vigorously develop oil and gas resources development cooperation projects, to China's manufacturing enterprises to bring great business opportunities. Warom is in this context, the comprehensive planning of the Customs Union CU-TR certification work, the development of a long-term CU-TR certification plan and product certification implementation plan. With this CU-TR certification review work successfully passed, and more products to obtain CU-TR certificate, to Warom Explosion-proof international market development provides the basis for the overall development of Russia, ha three Kostan as the representative of the CIS countries market, and further enhance the share of Warom products in the international market, Warom explosion-proof will win more international users.